Who's that womyn with those red shoes? Who plays those really great bass lines throughout Living in Clip? Why that's Sara Lee! Sara Lee played the bass guitar for ms. difranco for one year. Those familiar with the Indigo Girls know why. Sara has been playing with the Indigo Girls (affectionately known as IG and compromised of Amy Ray and Emily Saliers) since their third release, Nomads.Indians.Saints. This is also where ms. lee can be found at the moment. Perhaps you saw her on the The Rosie O'Donnell Show strutting her stuff while Amy and Emily sang Shame on You from their new release Shaming of the Sun. There are rumours that Sara departed from ani because of a feud. Totally false and don't even waste your breath! The Indigo Girls just had the right to have their bassist back!
---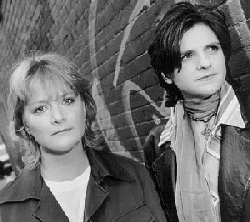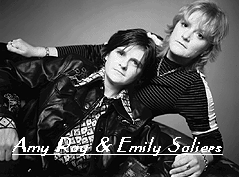 The Indigo Girls; Amy Ray (dark hair) and Emily Saliers
---
What albums is she on?
Sara can be heard playing the bass on the following albums;


Living in Clip - Ani DiFranco
Shaming of The Sun - Indigo Girls
Live: Back On The Bus Y'all - Indigo Girls
Swamp Ophelia - Indigo Girls
Rites of Passage - Indigo Girls  
1200 Curfews - Indigo Girls
Nomads.Indians.Saints - Indigo Girls
Tidal - Fiona Apple
Songs of the Free - Gang of Four
Brief History of the Twentieth Century - Gang of Four
Hard - Gang of Four
Phantom Center - Ferron
Bewitched - Andy Summers
Be Careful What You Wish For - Kristen Hall
Fact and Fiction - Kristen Hall
League of Gentlemen - League of Gentlemen
Thrang Thrang Gozinbulx - League of Gentlemen  
Buffy The Vampire Slayer
Good Stuff - B-52's
Cosmic Thing - B-52's
Shag - Shag
God Save The King - Robert Fripp
Williams Bothers - Williams Borthers
Groovy Decay - Robyn Hitchcock


---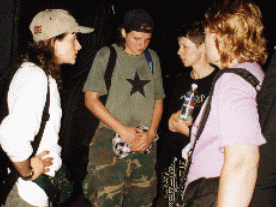 Michelle Malone, Amy Ray, Sara Lee and Emily Saliers.
---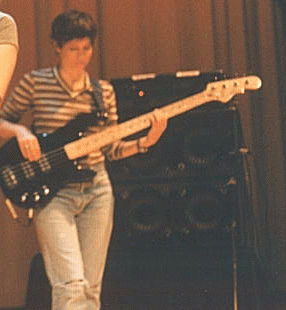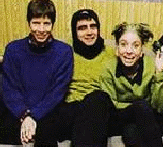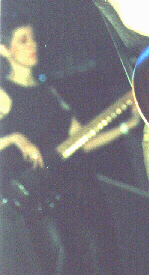 ---
Interesting Facts/Stories
Sara was recently spotlighted in Curve magazine (formerly Denuve). (CLICK FOR ARTICLE)
READ the SPOTLIGHT on Sara from an Indigo Girls Tour Book!
Ani once stated there was going to be merchandise featuring Sara's face with the words "Band Slut" on it, on the back would be listed all the bands she's appeared with....
Amy Ray can be heard constantly introducing the lovely miss. lee as the "fashion consultant" or the "always fashionable" miss. sara lee...you decide...
(Note from fan about Sara Lee, who played with Ani DiFranco last year, read by Ani during San Francisco 'Maritime' show 27 June 96):
"I like you well enough, but your bass-player is the love of my life. When I see her, my teeth itch, my hair hurts... and I must have her!"
---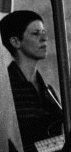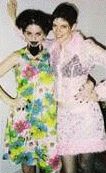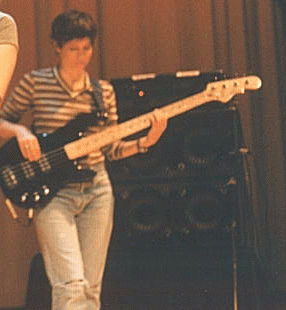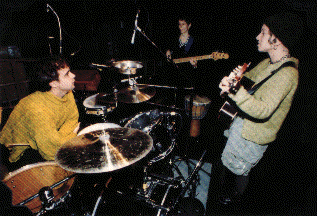 ---
Some of the photos have been taken from Alan Storm's Ani Page

Some of these photos have been stolen from the Lilith Fair Site...much more remain there, please go!

And one beautiful picture of Sara has been taken from this amazing site.
---
Look out for these 2 kids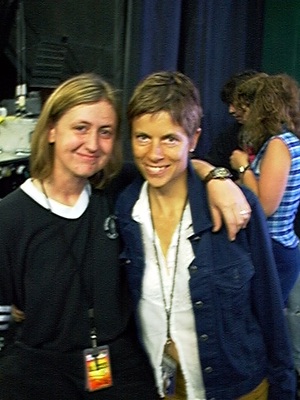 That's Sara Lee with Sully..who as well travels with the Indigo Girls...tuning womyn...where to go for pics! Be polite!(:
---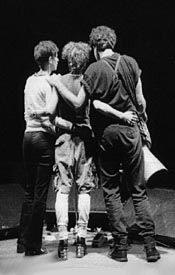 ---
back to the traveling circus